« Cat blogging | Home | Cuddlebug alert »
November 22, 2007
Meet Miss Priss
In part 2 of Cat Blogging, you get the distinct pleasure of meeting the smallest and most neurotic member of our family.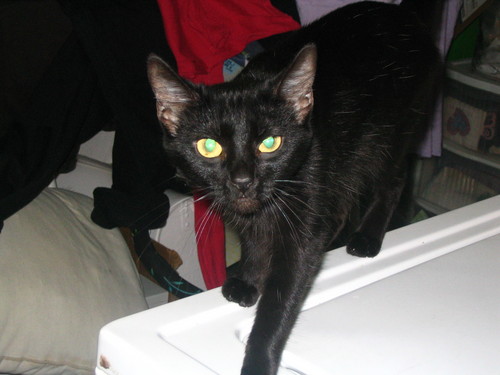 Name and Age:
Spot, 3 yrs. 6 mos.

Breed, coloring:
Silky Shorthair, black with a small patch of white on her belly, black pads and nose, yellow (crossed) eyes.

Nicknames:
Spoot, Spooty Patootie, Spotzilla, Miss Priss, Spotty Potty, Poopskins, Small Diet Poop, Skinny Minnie, Spootros Spootros Ghali. More than I can count.

Actual Name when we got her:
She got a spot of oil on her head and, thus became Spot. It stuck.

Why we got her:
To save her from a life of torture in the hands of T's cousin's kids. T and I had just started dating and he found the kittens on the side of the road. I knew I wanted one right away and he brought Spot down the next weekend. It was fate.

General disposition:
Neurotic.

Nickname When Bad:
She is almost never bad.

Favorite Pasttimes:
Being cute. Not trying new things.

Claim to fame:
Does not like to touch the floor. Can leap amazing distances.

Favorite toy:
Humans. Will play with string if in a very good mood.

Best trick:
Can jump from 2nd floor to bottom of stairs without making a sound.

Least favorite activities:
Fraternizing with the other cats.

Nickname when lying on the floor:
Cutie Spootie Patootie (usually said when she is writhing on her back looking adorable.

When upset, humans should:
Apologize, maybe buy her flowers.

Loves us most when she is:
Awake.

Medical history:
Has licked her armpits raw. Hates to have her fur out of place.