« Tired | Home | Alone and feeling it... »
November 6, 2007
For a good cause...
Friday afternoon we had a blood drive at our school. Mine was one of 19 pints that we collected. For just an hour of my time, I got the most awesome apron, below: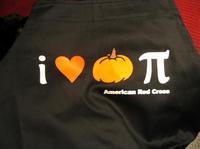 It came in a package with a card that had 2 recipes by the amazing
Paula Deen
, one of which was for, you guessed it ... Pumpkin Pie! You know if it's Paula's recipe, it'll be awesome ... and I'll be making it for Turkey Day. Wearing my apron. Though why they didn't use an actual eye for the I is beyond me.