« My moment of Zen | Home | Listening to... »
November 2, 2008
"That is racing"
I adore Formula 1, I really do. And in a season where my favorite driver (Felipe Massa, Ferrari) had a ton of bad luck, to have the Drivers' Championship come down to the last race was something of a miracle. The only way Massa could win the Championship was for him to come in 1st and Lewis Hamilton to come in 6th or worse.
The odds were in Massa's favor. This is his home race, the Brazilian Grand Prix and he won it last year. He and the Ferrari crew seemed to have put his mechanical problems behind him. Even more important, it seemed at the end of the season that Hamilton was making some uncharacteristic "dumb moves" while Massa was getting better and better. Could he really win this thing?
I was almost nauseous watching the race today. For the most part, Hamilton stayed in 4th or 5th place (that is bad) but Massa stayed out front with a commanding lead (that was good). All we needed was for Hamilton to make a mistake and Massa to be as perfect as we know he is.
When Massa crossed the finish line to take the race, I was THRILLED ... Hamilton had slipped to 6th, this meant that Massa had the championship. I then held my breath until Hamilton actually crossed the finish line ... after all, this is F1, anything can happen in the blink of an eye. And it did. Inexplicably, the guy in 5th let Hamilton by and, in the last corner, Hamilton became the World Champion by 1 point.
1 FRACKIN' POINT!!!
Needless to say, I was in tears. And then they showed a shot of Massa in his car, pulling in as the winner but knowing how close he had missed his dream, blinking back tears. And my heart just broke for him. All through the podium ceremony (Ferrari won the Constructor's Cup, yay!), through the national anthems, through the spraying of champagne, Massa was choking back tears. He kept his chin up, though, touching his heart and pointing to the crowd, letting them know how much he appreciated their support.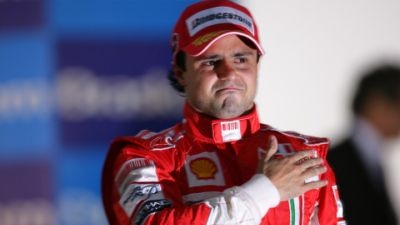 Later,
in the post-race interview
, he was an excellent team player, but still fighting back tears. He kept repeating "That is racing." He knew he had a perfect race and did everything he could to win the race ... honestly, in my heart, he is a Champion ... but some things are just out of his control. Like a Toyota that slows inexplicably in the last corner to let someone jump a position ahead.
Quoted before the race on Speedtv.com, Massa said
"The only thing on my mind is winning the race. The rest does not depend on me. If I am champion, it will be a dream come true. If not, that's ok, I will try again next year.".

And we'll be there to root you on.