May 18, 2006
Revelry II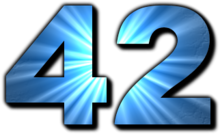 I'm about to become the answer. With my deep Hitchhiker roots, this year should be good.
Happy Birthday to me.
UPDATE: Many thanks to the crew at Gamer Andy for the impromptu serenade during the live podcast last night. You made this rookie staff member feel really good.
UPDATE TO THE UPDATE: Maybe it's silly that I'm 42 and I still like to celebrate my birthday. I come from a family where it wasn't important, though. I think I only remember one party when I was little. I guess it was a bigger deal before my dad left because I remember seeing pictures of some pretty cool cakes my mom had made me when I was really little but when she was on her own, it wasn't anything fancy, or even special. Sometimes, many times, it was forgotten.
When I got married, it was forgotten more often than not, even though his birthday was only a week before mine and I always made a big deal about it. My birthdays didn't really start being cool until I started teaching ... my first birthday as a teacher, I got serenaded by a group of 5th graders and everywhere I went, kids would run up and hug me, thinking that my birthday should be as special to me as theirs is to them.
And I asked myself "Why not?"
Since then, I've proudly told on myself, age and all. And I get enough love and good wishes on this one day to last me the year. Now, if you will excuse me, I have a bowl of Hot & Sour Birthday Soup on my desk that is waiting and a very sweet email to read and reread to keep me company.

UPDATE ON THE UPDATE TO THE UPDATE: Ok, so I get through the day at work and my son is actually talking to me. *gasp!* My daughter declares this a 'no homework' day and starts baking my cake as soon as we get home. Mom calls and wants me to come over to pick up a 'present' but I'm not in the mood to get another ugly sweater that doesn't fit and listen to her troubles so I blame my sore throat and tell her I'll be over sometime this weekend. No big deal, it's my birthday after all. I'm pretty tired but it's not a bad tired.
I just had a slice of cake (carrot with cheesecake pudding between the layers and cream cheese frosting), peeled the "It's my Birthday" sticker off my shirt and I'm thinking about lying down to rest with my laptop (and IM) by my side. The only thing that would be better is if T was here but I don't want to be greedy.
The sore throat is turning into a full blown episode so I intend to stay in bed tomorrow, come hell or high water. I know I will have to do a few things but I intend to drink massive amounts of fluids, maybe choke down some soup.